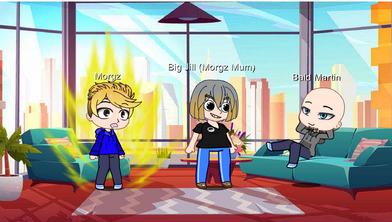 Morgz Anime is a story in a Nutshell about a british youtuber "Morgz" created by "Gacha in a nutshell" which is about his scam challenges! In the story Morgz is reffered as: Morgan Hudson (Real Name), King of Scam (by his fans) and "Your Autistic Boiii!!"
Main Story
Morgan Hudson was born on 6th august 2001 and lives in UK. He became a really crynge youtuber in 2013!!! His vids were not so crynge and scam until he introduced his fat mom. Shortly after that things got out of youtube's hands, Morgz said some rude stuff, he started making 3am videos until he 2 million subscribers. That's when he started making crynge fake challenges. It was recealed in 1 of the videos that his mom likes mealworms. In his 3th challenge he introduced his Scottish Step-Dad "Bald Martin" . Before martin joined the morgz channel he was an ambulance driver in scotland's capital Edinburgh. He made Scam Videos with martin after Darren (Morgz Dad) broke up with Jill (Morgz Mum)

Ending
In the story Morgz died as a warning for real life morgz to stop lying to people about his content and to stop copying mr.beast! Morgz died because FBI raided his house and killed everybody that witnessed the legal murder of Morgz, including: Morgz Mum, Bald Martin, Kiera and his two pugs. It was later told that the british and american goverment couldn't stand morgan sending videos and lying to his gollible audience, so the goverment was told to take him out. He also had bad influence on his fans witch caused them to go mad.

List of Real Life Characters in the story
Morgz
Morgz Mum
Morgz Dad
Bald Martin
Kiera Bridget
List of Fictional Characters in the story
Raj (shopkeeper)
Santa
Gacha Manager
Morgz Fans
The story Links